Kapili has been awarded Polyglass' Quantum Level Contractor Status for the year of 2022! Who is Polyglass, what exactly is Quantum Level Contractor Status, and how does Kapili being awarded this benefit you? Read through this short post to find out!
Who is Polyglass?
Polyglass U.S.A. Inc is a national material manufacturer here in the United States. They specialize in low-slope roofing products, and they have been pretty much the go-to choice for membranes used here in Hawaii!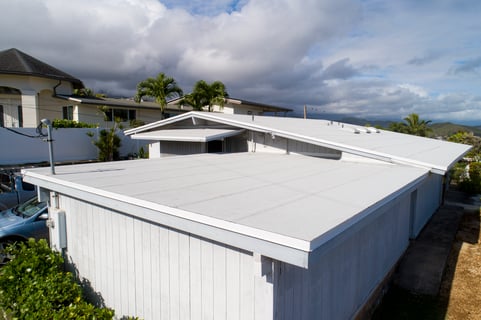 Not only is Polyglass a great choice for commercial roofing systems, but they are also widely used on residential applications as well! We have done large federal government buildings, Department of Education classroom and office buildings, to basic low-slope residential carports with this material since the start of our company and it has always weathered well and been a reliable product to use.
The basic system is a "two ply" system that consists of a base sheet and a cap sheet. To add additional protection, and a longer warranty a "mid-ply" can be selected and 5 extra years added onto your material and labor warranty!
There is an awesome variety of colors that you can pick from, and also options for solar reflective white membranes!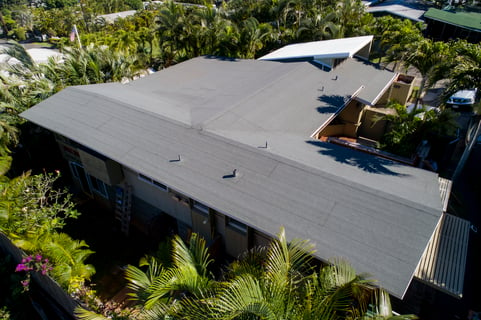 These types of "mod-bit" roofs are installed on lower slope roofs where the traditional asphalt shingles are not typically allowable. This provides a practical and effective solution to waterproofing many homes that are built with flatter roofs.
When needing to tear off a flat or low slope roof, it is our go to choice! It can be paired with a "tapered insulation" to provide additional drainage, or can be installed to follow the existing slope.
What is Quantum Level Status?
There are only 19 contractors in the world to achieve this award. The Kapili team has received the Quantum Contractor Status award for 2022, and we are honored to have been recognized by Polyglass with this designation!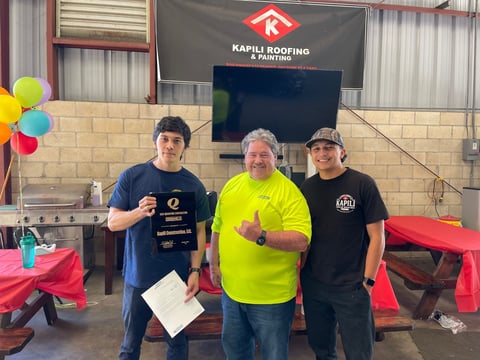 Quantum Contractor status is the highest level of the Polyglass three-tiered Contractor Program and puts our team in a very select group of contractors across the United States!
Quantum status recognizes contractors for properly installing Polyglass low slope roof systems, and is designed to recognize contractors for their commitment to excellence.


What does this mean for Kapili and more importantly, for you?
Over the years, Kapili has received countless awards and certifications. Winning this award recognizes Team Kapili's commitment to quality and excellence in low slope roofing on your home.
It means that you have Peace of Mind as a homeowner that we will always do our best when given the opportunity to work for you.
We strive to get better everyday, and believe that there is no limit to the improvements that we can make as a team and as a company to better serve you!