Getting your house painted is a big commitment and it can be a little daunting to go through the process. To help you prepare, we'll cover every step of the process, so that you know exactly what to expect when getting your house painted.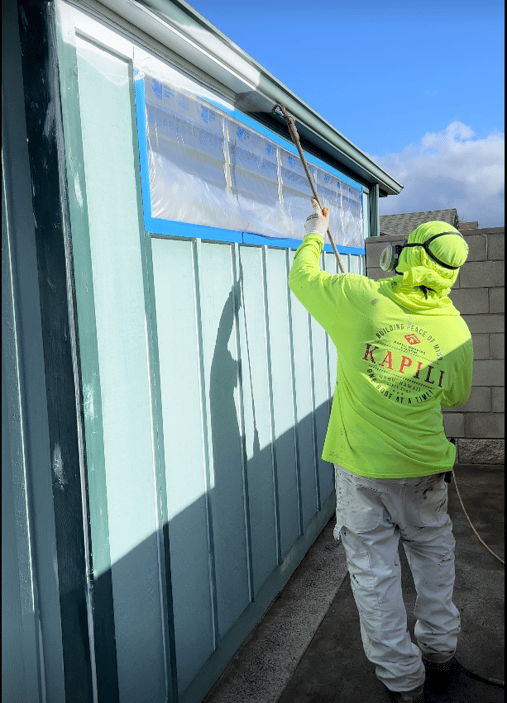 What You Should Know BEFORE Getting Your House Painted by a Professional Painter
Before getting your house painted professionally, you should know:
Hiring a trusted professional painter is important because it saves time and ensures that the job is done right

The weather will play a big factor in how smooth the painting process goes. Dryer weather is better for painting

Paint quality matters and the extra money spent on the high quality paint will ensure your paint job lasts many years.

Painting can take a few days, depending on the size of your house

You will need to pay a deposit (Usually 50% before start of painting project)

Know what you want so you can convey it to your painters so they can give you exactly what you want

Exterior painting is a multi-step process that involves planning, painting, and cleanup

Your final price will be determined by many factors, not just the size of the house that needs painted
Basically, before getting your house painted you should know how the process works so that you're not caught off guard by anything. Every painting company is different, so when you finally decide on one, it's a good idea to ask what exactly their process will look like.
Another reason that you should ask is because some painting companies may want you to do a few things before they come and get to painting.
Another thing to keep in mind is that your painter shouldn't just come out and start painting as soon as you hire them. Quality contractors won't just paint your house like it's a dime a dozen, they will work with you to plan out the details. This process can take a bit of time, but it is important so that you end up with a house that you love coming home to look at.
How Long Does a Paint Job Take?
On average it can take professional painters about 5 days to paint a house, depending on the size of the house. It takes a couple of days to clean and prepare the house for painting, and then about three days to actually paint the house. How long it takes exactly will depend on your house, and the contractor that you hire.
There's a ton of mildew, dirt, loose paint, etc on the sides of most houses, and all of this needs to come off before someone can actually start painting it. Of course, it doesn't have to come off, but if you want your house painted right, then it will need to be cleaned.
This whole process, along with planning out what you want your new paint to look like (what you want painted, what you don't want painted, finding the perfect colors, etc) can all take a couple of days. Quality painters will work with you during the preparation step, figure out what exactly you want, and clean your house so that it's ready for a fresh coat of paint.
How To Prepare For House Painting
To prepare for house painting, you can clean the sides of your house and replace any rotting wood on the siding of your home. What all you need to do to prepare will depend on your contractor. Some will do the cleaning for you, while others will not, so it's important to discuss this with them.
If you're having professional painters paint the exterior of your house, then they will also likely clean and prep your house for painting. There are a handful of contractors that will not do this and they'll expect you to clean the outside of your house, so it's important to discuss this when negotiating and shopping around for painters. After your house is cleaned, it may take a day or two to fully dry, so be prepared to wait.
If you have any wood siding, make sure that none of it is rotting. If the wood is rotting, then your new paint will just go to waste since you'll probably have to replace it soon. Your contracted painters are most likely not going to be able to replace the wood for you (although they may counsel you on whether or not it is necessary), so this is something you will need to do yourself before starting the painting process.
The Process of a House Painting Project
1. Requesting for a Painting Estimate
Before you begin any painting project, it's important to get a painting estimate from multiple contractors to ensure you are getting a fair price for the work to be done. Researching Contractors: Start by researching different painting contractors in your area. Look for companies that have good reviews and a solid reputation.
Contracting Professional Painters: Reach out to the contractors you are interested in and request estimates. Most contractors will schedule a consultation to view the property and assess the work that needs to be done.

Discussing the Project: During the consultation, the contractor will ask questions about your project, such as the type of paint you want to use, the number of rooms that need to be painted, and any specific requirements or requests you have.

Reviewing the Estimate: After the consultation, the contractor will provide you with an estimate for the project. The estimate should include a cost and what is included to be painted (house exterior, house interior, window trims, doors, etc.)

Comparing Estimates: Once you have received estimates from multiple contractors, take the time to compare the costs and services offered by each one. It's important to consider not only the cost, but also the quality of the work, the timeline for completion, and the reputation of the contractor.

Making a Decision: After comparing estimates, choose the contractor that best fits your needs and budget. Be sure to also check the contractor's credentials and insurance to make sure they are properly licensed and insured before proceeding with the work.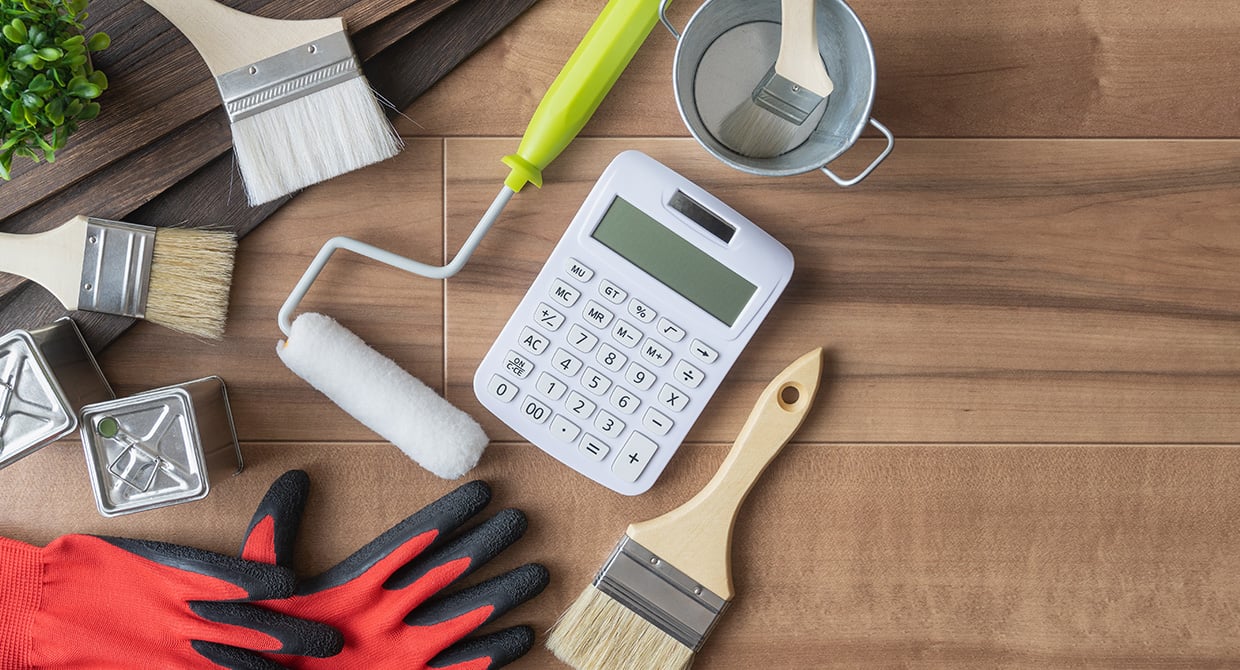 2. Planning
The next step of painting is planning your project. This step is one of the most important because if your house is painted exactly how you envisioned it, then you will notice every single day you come home. Quality painters will listen to every idea you have, and plan out the paint job to the last detail to ensure your house looks exactly how you want.
3. Surface Cleaning
Once the plan is laid, the contractors will start cleaning surfaces that will be painted. This typically involves power washing the entire exterior. This is to get rid of all of the dirt, mildew, pollen, or contaminates that have built to your siding over the years. This step is important because it gives the paint a fresh base to stick to.
Once the surfaces are washed, it may take a day or so to dry. After surfaces are cleaned, masking material and painters tape are applied to areas that are not being painted.
4. Patching, Sanding, Caulking
Patching, sanding, and caulking is a crucial step in the preparation process for a house painting project. Prep work is vital to ensure that the surfaces are smooth and even, and that any imperfections are corrected before the paint is applied. How much prep work needed depends heavily on the condition of your home's exterior. Older homes and homes surrounded by nature will typically need more prep work.
In order to patch, any holes, cracks, or gaps in the surfaces will be filled with wood filler or caulk. The wood filler or caulk will then be sanded to create a smooth surface. Sanding is also used to smooth out any rough areas on the surfaces.
This is important as it ensures that the paint will adhere to the surface properly, creating a smooth and even finish.
The surfaces will then be cleaned to remove any dust or debris from the sanding process. Caulking is also used to seal gaps and cracks around windows, doors, and trim to prevent drafts, water infiltration, and to improve energy efficiency of your home.
5. Masking
Once the surfaces have been cleaned, it's important to cover surroundings to protect them from overspray or from being painted. Usually the painter's tape, masking paper, or plastic is left for the duration of the project - requesting a contractor to mask and tear down everyday may result in extra labor and material costs at the expense of the homeowner.
6. Priming
A coat of primer is applied to the surfaces to be painted. Primer is designed to seal the surface, provide better adhesion for the paint, and help to hide any imperfections in the surface. If a change of color is needed, a tinted primer can be used to help reduce the number of paint coats needed. Depending on the surfaces of what's being painted, a different primer may be used.
Wood or plastic will usually require a standard primer

Metal must be clean of any contaminates and primed with DTM or oil primer

Raw concrete blocks should be sealed with a concrete primer - oil primer can be used but in some cases can fail if the primer can not tolerate the pH of the cement
7. Painting
The surfaces are then painted using paint brushes, paint rollers or a paint sprayer. The paint is applied in even coats, allowing each coat to dry before applying the next one. The number of coats needed will depend on the condition of the surfaces and the type of paint being used.
A small house may take less than a week and a larger home can take 2 to 3 weeks. The time spent depends greatly on the location and size of your house as well as the size of the crew painting your house.
Quality paint jobs take time and there are many factors that can affect the timeline, but this step usually doesn't take more than 2 - 3 days. The bigger your house and the more complex your needs, the longer it will take.
8. Cleanup and Close Out
Finally, once your house painting is completed there are a couple more loose ends to tape up. Supplies will need to be collected and picked up and the painter's tape around your house will need to be completely removed. Cleanup usually doesn't take long at all, and once the tape is up you're good to go and can start enjoying your new coat of paint!
A final walk-through with your contractor is typical to ensure everything mentioned on the painting estimate was completed.
The Costs And Returns
How Much Does an Exterior House Painting Cost?
The average cost for an exterior paint job can range from $7,000 to $12,000. The exact cost will depend on your location and the size and layout of the house, as some houses are more complex and take more time to paint. Some houses can be as expensive as $20,000 while others can be as cheap as $5,000.
You should always get a few different quotes from local painters because you'll see prices all over the spectrum. Keep in mind that you usually pay for what you get. It's not unheard of for home owners to go with a $3,000 quote then wish they went for the $5,000 one due to the quality of the cheaper work.
How Much Does Exterior Paint Increase Home Value?
Painting the exterior of your home can raise the value of your home by 2 - 5%. This means that investing in a quality painting job can offer a return on investment. Any enhancements to your house's exterior will increase your home's value by a significant percentage.
A new coat of paint isn't going to double your home's value overnight, but it is well worth the price. The ROI you will see from a quality paint job is one of the easiest ways to push up the value of your property.