Video Background. Click to change options.
This block is visible only in page builder. You can place this block in any position. Add only one video background for one section. Please don't set any different background (color, image, gradient) for section.
How Can We Help You?
Oahu Roofing Services
We have the knowledge and experience to provide all types of roofing services, including:
— Roof Repairs
— Roof Replacements
— New Roof Projects
— Roof Maintenance
Roof Repair
If you have a leaky roof or other damage, we can quickly and effectively repair your roof to keep your home protected.
Roof Replacement
If your roof is beyond repair, we recommend a complete roof replacement.
We use high-quality materials to give you a sturdy, reliable roof that will last for years to come.
When redoing your entire roof with us, we are able to offer a leak free warranty!

New Construction Projects
If you're building a new home or extension and need a roofing contractor on Oahu, we can help you choose and install the perfect roof for your roofing project.
Roof Maintenance
Regular roof maintenance is important to keep your roof in good condition and extend its lifespan. Our roofing experts can provide regular inspections and maintenance to keep your roof in top shape.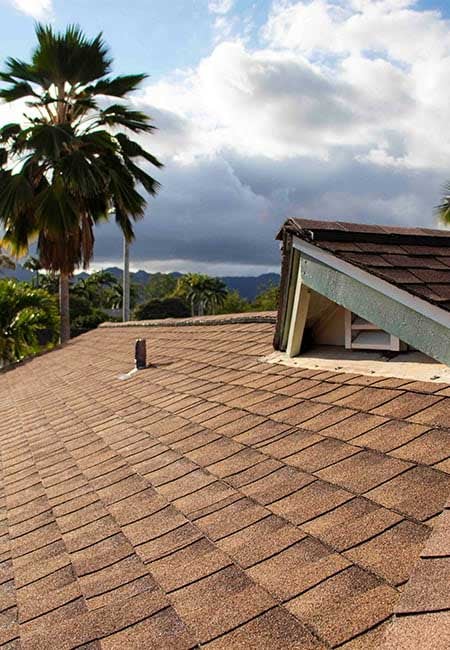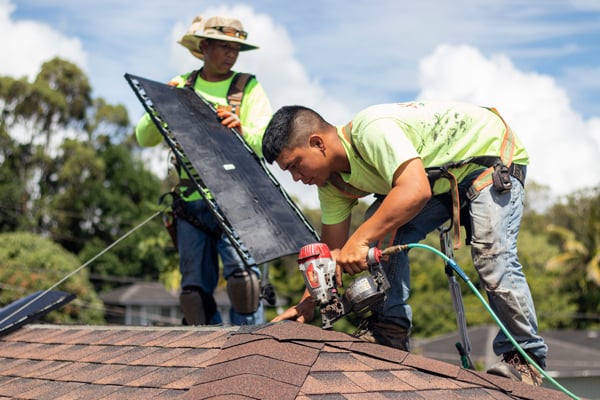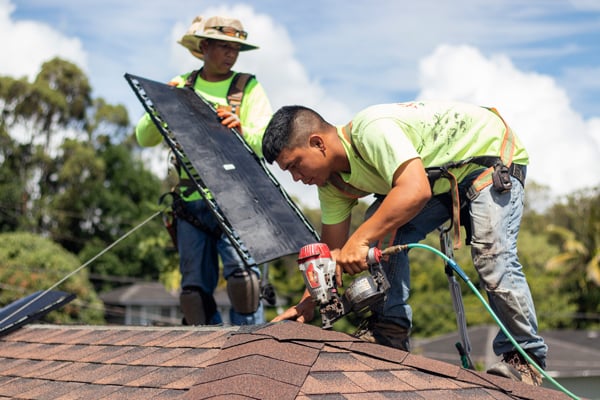 Get a Complimentary Quote Today!
How Can We Help You?
Types of Roofs We Offer in Honolulu County
Our team of installers are highly skilled in many types of roofing systems, including:
Asphalt Shingle Roofs
Asphalt shingle roofs are a popular material in Oahu homes due to their numerous benefits.
They offer a cost-effective solution with a great balance of cost and quality, and are known for their durability, resistance to harsh weather conditions, and ability to reflect heat, helping reduce energy costs.
Additionally, they come in a variety of colors and styles, making them a versatile choice for homeowners who want a personalized look.
Metal Roofs
Metal roofing is a popular choice for homes on Oahu, providing numerous benefits for homeowners. Its durability is unmatched and can withstand harsh weather conditions, making it ideal for the island's frequent hurricanes, heavy rain, and high winds.
With a lifespan of up to 50 years or longer, metal roofing is a wise investment in the long run. In addition, its energy efficiency helps reduce energy costs by reflecting heat away from the home, making it a great option for the island's hot summers.
The material is also low maintenance and resistant to fire and pests, requiring fewer repairs and replacements. Furthermore, metal roofing comes in a variety of colors and styles, providing a sleek, modern appearance that can complement any home design. All these features make a metal roof a smart choice for homeowners who want a durable, low-maintenance, and energy-efficient roof.
Tile Roofs
Tile roofing is a well-known choice for homes on Oahu due to its numerous benefits, including resistance to salt corrosion. This roofing material is known for its durability, making it ideal for the island's harsh weather conditions, heavy rainfall, and coastal environment.
Salt corrosion can be a major issue for homes in coastal areas, but tile roofing is designed to resist this type of damage, providing long-lasting protection for your home. Additionally, tile roofing is energy efficient and helps keep homes cool, which is important for the island's warm climate.
The material also provides a unique, classic appearance that can enhance the overall look of any home, and it's low maintenance and replacements compared to other roofing materials.
Furthermore, tile roofing is fire resistant, providing added safety for homeowners. In conclusion, tile roofing provides a durable, energy-efficient, and attractive solution for homeowners who want to upgrade their roof.
Whether you're looking for a classic look or a modern touch, tile roofing can provide a practical and stylish option for your Oahu home.
Cedar Shake Roofs
Cedar shake roofing is a fantastic choice for homes on Oahu due to its many benefits. This natural roofing material offers a one-of-a-kind, rustic appearance that can elevate the look of any home.
In terms of durability, cedar shakes are ideal for the island's harsh weather conditions, heavy rainfall, and strong winds.
Although cedar shakes require oil maintenance every several years, they are relatively low maintenance and a great choice.
Furthermore, cedar shakes have insulating properties, helping to keep homes warm in the winter and cool in the summer. Overall, cedar shake roofing is a durable, attractive, and low-maintenance solution for homeowners looking to upgrade their roofing on Oahu.
Whether you're searching for a classic or rustic look, cedar shake roofing can offer the perfect solution for your home.
Who We Are
Honolulu Roofing Done Right
When the residents of Oahu need our help. Kapili Roofing is dedicated to providing our customers throughout the island with the highest quality roofing services possible. From intiial consultation to final walkthrough, we will work with you to ensure that your roofing project is a success.

Our commitment to quality and customer satisfaction sets us apart from other roofing companies in Oahu. We're proud to be a trusted and reliable partner for homeowners on the island!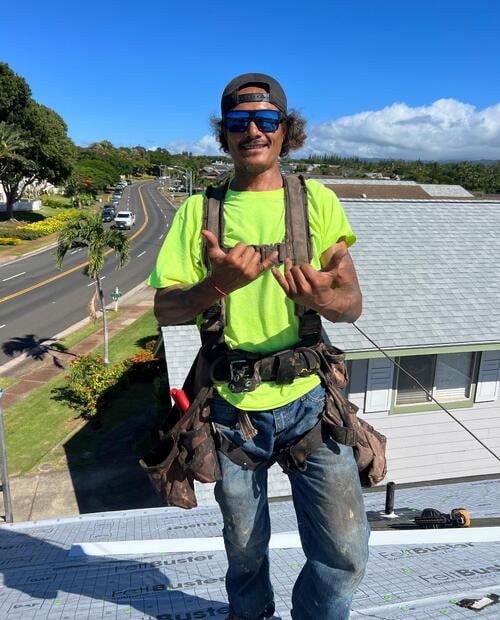 We Stand Behind Our Work
An Oahu Roofing Contractor You Can Trust
Experience: Our team has years of experience and extensive training in the latest roofing technologies and materials. You can trust us to provide you with a roof that is built to last.
Workmanship: To give the best, you need to be the best. Our goal is to provide our customers with a roof that not only looks great, but also stands up to the test for years to come.
Exceptional Customer Service: At Kapili Roofing, we understand that good communication is key to a successful roofing project. That's why we make customer service a top priority and strive to provide our customers with the support and information they need every step of the way.
Don't Forget, Request a Quote Today!